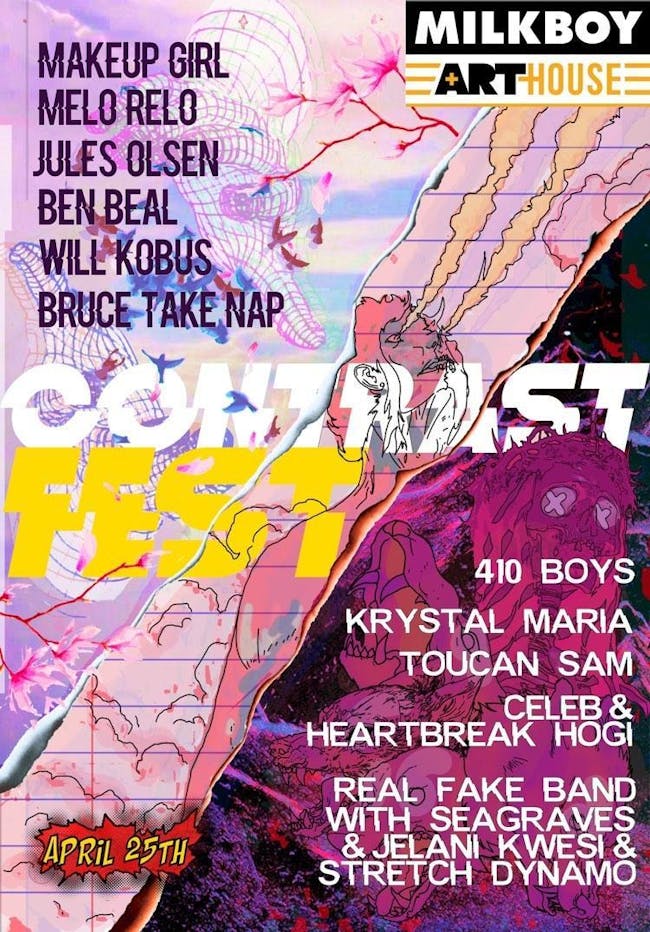 Makeup Girl
MELO RELO, Jules Olsen, Will Kobus, Bruce Take Nap, Real Fake Band with Seagraves & Stretch Dynamo
Contrast Fest 2020 at MilkBoy ArtHouse!
Vibes Collide for Contrast Fest at MilkBoy Arthouse!
Contrast Fest is a one day music festival showcasing incredible up and coming artists from all genres including: Indie, R&B, Hip-Hop, Trap, Punk and more. Contrast Fest is about bringing together diverse stories, ideas, and vibes through music. The festival is split into two halves. Come to the first half for some chill vibes and stay for the second half to turn up.
Artists:
Makeup Girl
https://open.spotify.com/artist/3pcMLrgADeHO8P3UnKBL4C?si=cGgBtIJuT1-tQ4wokD5uKA
MELO RELO
https://open.spotify.com/artist/0ATJMbuUHilL7sml9nODKN?si=X34BsuLsSqqHx4Iw9iZ8aA
Jules Olsen
https://open.spotify.com/artist/7MSHbuGM1HwwXpys6YpuA0?si=k3ITg_lbQyyA0gUey6Wz_w
Ben Beal:
https://open.spotify.com/artist/0CTpeTOAvzc1FOlPj4uYWV?si=YpodAU-7ToSFoy7VdlX2Gg
Will Kobus
https://open.spotify.com/artist/7BMlpOLxDJXgN26AWvF8Q1?si=EpTd1QkvSSeilXYZ3Xfyfg
bruce take nap
https://open.spotify.com/artist/0tOj6PmYqlukDtxPlVdnPR?si=u16DwJIzSPyzekreBqaOpg
Real Fake Band with Seagraves & Stretch Dynamo
https://open.spotify.com/artist/1jgQZmvz03udRvrSfgFzhd?si=93XBab5jR7mMrTryHAQqew
https://open.spotify.com/artist/5y0cNJqwLEB2juEFgoKBAr?si=cJDMHzRfTrWSJP-hib8Keg
Krystal Maria
https://open.spotify.com/artist/7fyDApYaxZ5xnifsXF1KG5?si=gtg2zsdgRK-sE5-Ite6FlA
Toucan Sam
https://www.spinrilla.com/kinggofkeys
Celeb:
https://soundcloud.com/calebkyle
410 Boys
https://open.spotify.com/artist/4DflrjrxMozU2KsK7y6NET?si=3IwssErSS0GqjlQyiqAKFw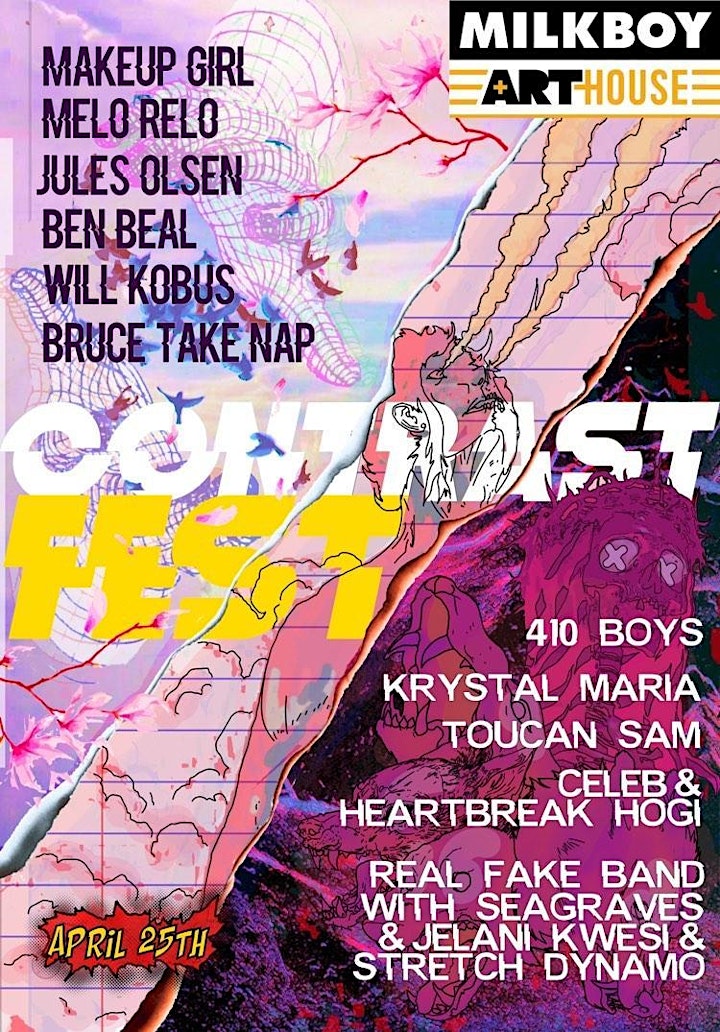 Venue Information:
MilkBoy ArtHouse Main Stage
7416 Baltimore Ave
College Park, MD, 20740