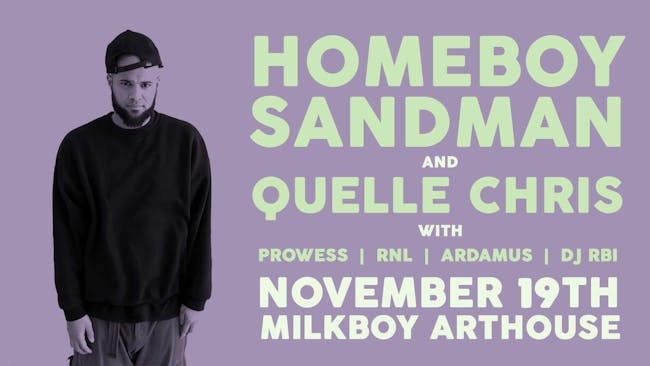 Homeboy Sandman
Quelle Chris, Prowess, RNL, Ardamus, DJ RBI
$12.00 - $15.00
Sales Ended
Homeboy Sandman & Quelle Chris w/ Prowess, RNL, Ardamus, & DJ RBI perform at MilkBoy ArtHouse!
Homeboy Sandman & Quelle Chris w/ Prowess, RNL, Ardamus, & DJ RBI perform at MilkBoy ArtHouse!
HOMEBOY SANDMAN
"Homeboy Sandman's favorite song is "Knocks Me off My Feet" by Stevie Wonder. His second favorite song is "I Know You, I Live You" by Chaka Khan. His favorite Michael Jackson song is "Lady in My Life". He prefers Low End Theory to Midnight Marauders, but adores both."
Picasso claimed that the purpose of art is to wash the "dust of daily life off our souls." Homeboy Sandman asks on Dusty, "Why would I complain when I'm alive making art?" In the course of his Mello Music debut, the Queens virtuoso answers himself with 15 soul-assessing confessionals that sweep the entropy and daily static, the distortion and psychic silt of modern life onto wax. This is sacred dust, alchemical practice to convert anxiety into the highest form of creativity. It is rapping ass-rapping rapped better than your favorite rapper.
Let Sandman tell it: the sound is dusty. These bars are his id. He's not trying to save the world on this record or even save himself. These are the unmasked impulses and desires locked away for a long time -- some of them from before he ditched the legal world for decapitating mediocre MCs. On Dusty, he says " I unlocked myself and let them out -- dusted them off -- for better or for worse."
Of course, it's infinitely for the better. This is a therapy session without coming off remotely indulgent. Sandman remains both the master carpenter and architect, writing verses with lapidary precision, inventing new flows and cadences at brilliant angles that no one knew could be found.
This is the latest chapter for one of the most storied underground rappers of his generation. A versatile talent who has checked every last box: Unsigned Hype in The Source, Chairman's Choice in the XXL. Rolling Stone hailed his songs as dense and word-drunk, spilling past the margins, demanding repeat listens as he re-works rap forms and functions into something truly personal." Pitchfork said that in the all-star game of the new subterranean, "he is the guy with flawless fundamentals, wearing his socks high and his cleats sharp and polished." His solo catalogue is sterling and over the last two years he's mastered the group dynamic in tandem with fellow legends Aesop Rock and later, a brilliant psychedelic slab done in union with Edan.
--
www.homeboysandman.com
Facebook.com/homeboysandman
twitter.com/homeboysandman
instagram.com/homeboysandman
QUELLE CHRIS
Every time a shooting makes the news talking heads pop up in small boxes and make loud arguments about how we shouldn't rush to politicize what just happened. After all, the heads argue, guns don't kill people. People kill people. But how true is that? Are the tools we use simply tools, innocuous until we give them meaning? Or are the things we surround ourselves with –– the things in our arsenal –– begging to be weaponized, for good or for evil? Guns, the new album from the critically acclaimed rapper and producer Quelle Chris, is a careful study of all these questions, an urgent record for urgent times.
"Guns is an arsenal of both sounds, styles, and subjects, Quelle says, taking a thorough look at "the words we say, what we fear, how we love, how we live, what we ingest, what we believe in, who we idolize, shit like that." To this end, the New York by-way-of Detroit savant attacks his topics from multiple angles: there's the jagged, minimal "Obamacare," which plays like a confrontation, but there's also "Wild Minks," where Quelle and the enigmatic New Jersey rapper Mach-Hommy spin silk out of the softest textures in their parents' record collections. In the service of examining big ideas with grave consequences, we get to hear a master technician deploying every piece of ammo he has. In times that are often beyond parody, Quelle has never been a writer to shy away from the absurd. But Guns is dotted with references to the very real, painfully ordinary fates that might befall us –– be they getting gunned down in church on a Sunday or simply being forgotten by our friends after we're gone. In preparation for both, Quelle lays his psyche bare. Maybe his identity is best summed up by the three-word descriptor he gives himself toward the record's end: "handsome, black, and headstrong."
----------------
https://twitter.com/QuelleChris
https://www.instagram.com/quellechrist/
https://www.facebook.com/QuelleChrisMusic/
https://twitter.com/MelloMusicGroup
PROWESS
Prowess' cultivated her gift as a performer opening for legends like The Wu-Tang Clan, KRS-One, Citizen Cope, Cody ChesnuTT, Pharoahe Monch, and more as an emerging presence in the indie hip hop scene. Following the path of the greats, Prowess was gifted her moniker by The Legendary KRS-One, following a standout performance during one of the elder statesman's 'Hip Hop Appreciation Week' events.
She has been featured on albums with such artists as MF DOOM and Aloe Blacc. In 2008, Prowess took hiatus to pursue alternative artistic ventures and to work in sub-Saharan Africa on a research grant funded by The Bill & Melinda Gates Foundation integrating arts in community health with narrative writing and storytelling. It was during that time, Prowess kindled relationships with creatives across geographies. Prowess has performed across North America—collaborating with artists from DC to Canada and Europe. In follow-up to her projects "Air.Human|Breath.Divine" and "Right Where I Left It", Prowess is crafting multiple projects for release this Fall '19 alongside producers and long-time collaborators, Unown, P-Tech Santiago, and Canadian label, Ugly Pitch Records.
- https://prowessthetestament.bandcamp.com/
RNL
Amidst that scenic backdrop, RNL is carving a nook that echoes the boom-bap theology of his influences while embracing the new radical ideas and changes in today's music. Known for his cocksure homilies, RNL's musical talents were cultivated "East of the river" in Southeast, Washington, DC. A third generation Washingtonian from the dusky hip-hop margins of Anacostia, RNL's music reflects stories of his city.
Inspired by his late uncle who was a gifted drummer and encouraged by his older brother Sean, RNL's path to hip-hop began as a critical listener and student. Groups like De La Soul, Gang Starr, and A Tribe Called Quest as well hip hop juggernauts such as Grand Puba, Redman, Ice Cube, and Kool G. Rap were early influences. When he discovered Hieroglyphics and Souls of Mischief in '92, RNL would evolve from listener to creator. At Duke Ellington School of the Arts (and via U Street's hip-hop scene), RNL's destiny manifested on paper and in practice with follow creatives that would incubate one of his natural gifts, improvisation.
ARDAMUS
Originally from Nashville, TN. and now residing in Washington, DC, Ardamus has been a hip hop artist for years collaborating other artists and organizations in various forms. He has a lengthy catalog of solo work as well as group projects (Sitcalm, FAR EXP, Delegation Music, The Lucky So And So's, ANNEX DOTE, ARDAPLUS, etc). From participating in a project with the NIH alongside friends and collaborators Open Mike Eagle and Silencio to being one of the first recipients of the DC Young Artists Grant from the DC Commission of The Arts And Humanities, Ardamus has become esteemed in his accomplishments over the years. He has also shared the stage with artists such as Cappadonna, Bus Driver, Joell Ortiz, Blu & Exile, Qwel & Maker, Das Racist, Souls Of Mischief, Phife Dawg, Astronautilus, and many more hip hop artists.
- https://ardamus.bandcamp.com/album/leaving-limbo
DJ RBI
DJ RBI is an influential and legendary fixture of the DMV music community. An artist & entrepreneur, he endeavors in the arts & entertainment, notably thru DJing, production, and mentorship. He works as producer/DJ/programmer/host of 89.3 FM WPFW's "ILL Street Grooves" and "Capitol ILL" and is a regular staple in the entertainment circuit, spinning at various clubs, venues, and events.
Creative collaborators incl. Kev Brown, XO, RNL, Priest Da Nomad, and Surock. He regularly tours and performs with acts including Dumi Right & Zimbabwe Legit, Asheru, Ethan Spalding & The TrapRock Family, Sound Of The City Band, and 90's hip-hop legend YZ.
- www.AKARBI.com
www.Mixcloud.com/RBIZNEZZ
www.Instagram.com/DJ_RBI
FB: DJ RBI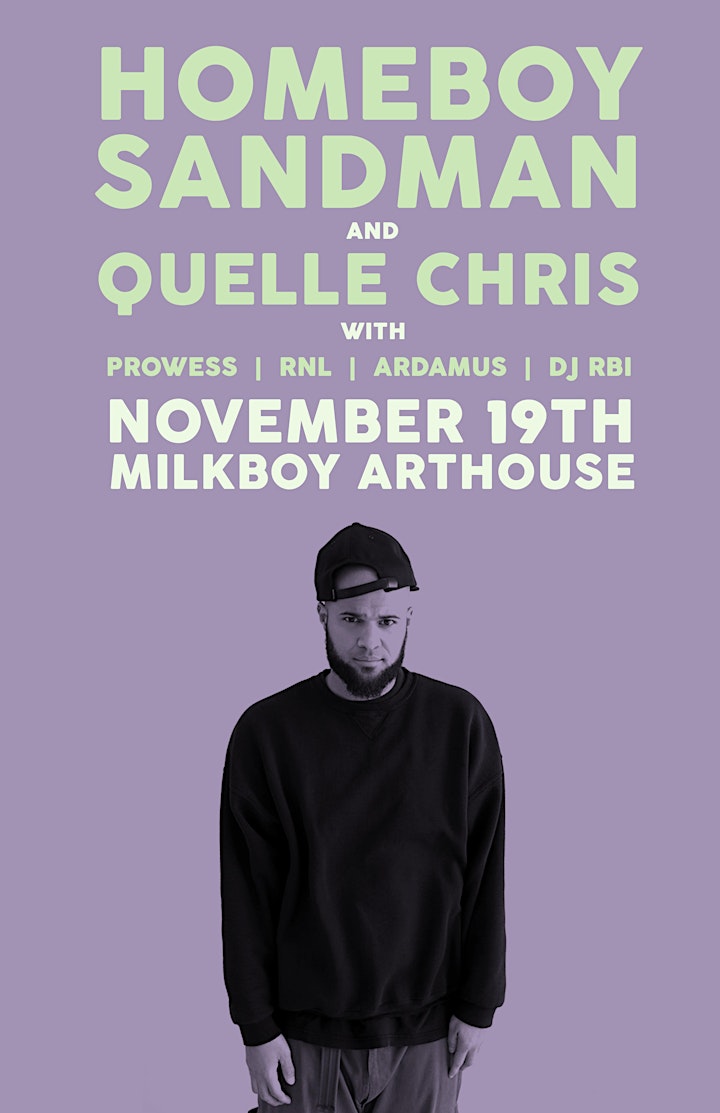 Venue Information:
MilkBoy ArtHouse Library Stage
7416 Baltimore Ave
College Park, MD, 20740