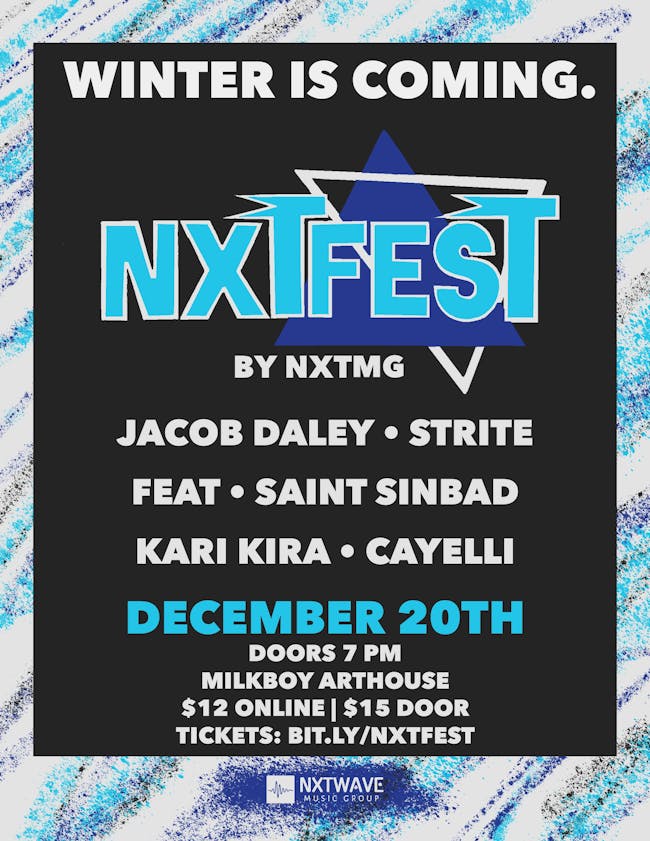 Jacob Daley
Strite, FEAT, Saint Sinbad, Kari Kira, Cayelli
NXTFest at MilkBoy ArtHouse!
NXTFest at MilkBoy ArtHouse!
NXTFEST: WINTER is put together entirely by students. From the artists to the organizers, NXTFEST was built for the student audience. Last summer, NXTMG put together a very successful mini concert series and hopes to keep the momentum up for NXTFEST: WINTER. The show will feature performances from Kari Kira, Cayelli, Strite, FEAT, Saint Sinbad, and Jacob Daley, all performers whose talents will make NXTFEST: WINTER just as exciting as the last one.
Jacob Daley:
Jacob Daley is an 19-year-old experimental hip-hop artist out of the DMV area. He has released 4 projects and looks to push new boundaries with each release. The strength is in Jacob's songwriting as he hopes his honest and heartfelt lyrics bring not just enjoyment but a feeling of comfort to the listener.
Strite:
Strite is a 17 year old aspiring music producer from Washington, D.C. He is a versatile producer who has been forming relationships with a variety of artists in the pop, EDM, and hip hop worlds, by creating catchy and interesting tracks. He is currently working on a project with vocalist Adam Gokcebay, a collaborative EP with guitarist Oren Strobel, and an independent project.
FEAT:
FEAT is the artistic persona of Ethan Feinberg a 19 year old DJ/Producer from Bethesda, MD. With experience DJing for 9 years, FEAT has participated in a number of competitions including, DMC, DMC Online, and he won Beat Refinery's Battle in 2016. He was also a part of the DJ collective the "Maryland Crab Scratchers" with DJ As-One, a seven time DMC Finalist. FEAT is currently studying music production and entrepreneurship at NYU's Clive Davis Institute.
Saint Sinbad:
Saint Sinbad is a Maryland native who is currently attending NYU's Clive Davis Institute of Recorded Music. He just recently released an EP by the name of "Gamma". Saint is working on and plans to release more music in the near future.
Kari Kira:
Kari Kira is an 18-year-old Michigan Native. A rapper, singer, writer, and producer, Kari creates unique tracks that people who can relate to his high engergy, hype music. Kari also runs an artist collective BRINGUPTHESTREETS and recently dropped his debut EP, "N4u*".
Cayelli:
Jake Cayelli is a 17 year old producer born in Atlanta. Living in Maryland, Cayelli and Kari Kira are the dynamic duo and push the creative boundaries with music. Cayelli is a member of BRINGUPTHESTREETS and looks forward to releasing more unique music with Kari.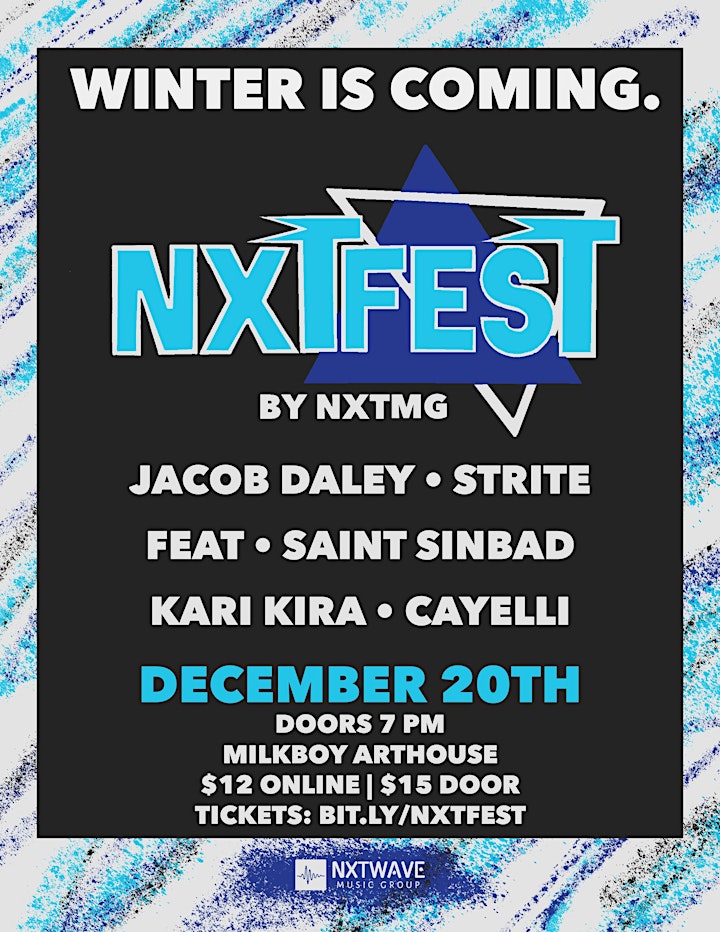 Venue Information:
MilkBoy ArtHouse Library Stage
7416 Baltimore Ave
College Park, MD, 20740