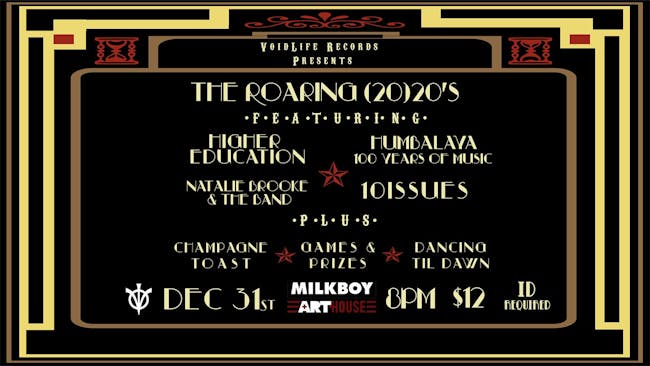 NYE PARTY! VoidLife Records Presents: The Roaring (20)20s w/ Higher Education, Humbalaya, Natalie Brooke & The Band, 10Issues
"Twas a rip-roaring, snip-snorting, flip-florping age of ages; a century ago the razz-a-ma-tazz was overflowing, the Charleston was in full "SWING," and some of the highest American spirits were to be found - behind closed doors and drawn curtains, of course (thanks Prohibition).
Uhm, and also they were calling women "Tomatoes?" So yeah some things weren't great but at least those "Tomatoes" could finally vote! The country let out its first roar against the status quo with angsty vamps and first-wave feminism; with jazz and the Harlem Renaissance and a blooming LGBTQ scene. "
So let's Speakeasy, Dancehard, and ROARLOUD!
Cheers to 2020 starting the best decade of our lives 🥂
VoidLife Records presents:
🎩The Roaring (20)20s at MilkBoy ArtHouse 🎩
New Years Eve
$12 | Doors: 8pm | Show: 9pm
♠ Higher Education♠
Psychedelic soaked reggae with raw, riotous rock n roll. Elevating your soul to whole new level, and whole new decade
☾ Humbalaya ☾ "100 Years of Music" Set ☾
Your friendly neighborhood funksters performing a set that is truly once in a lifetime
✾ 10ISSUES ✾
A wavy band based out of the DMV playing Jazz, hip-hop and contemporary R&B. 10 dope musicians getting down just for the funk of it
❂ Natalie Brooke & The Band❂
The funk, the rock, the roll, and all of the synthy vibes you can dream of. Natalie and her band will take you through an evening of soulful song writing, heavy jams, and licks so hot they'll have the floor melting beneath your feet!
~~~ PLUS ~~~
✵Champagne Toast✵
When that ball drops, we rock. Bottoms up!
✵Speakeasy Games & Prizes✵
You won't find these prizes at home, folks (or really anywhere else).
✵Performance Art✵
Prepare to be dazzled
✵✵✵DRESS TO IMPRESS✵✵✵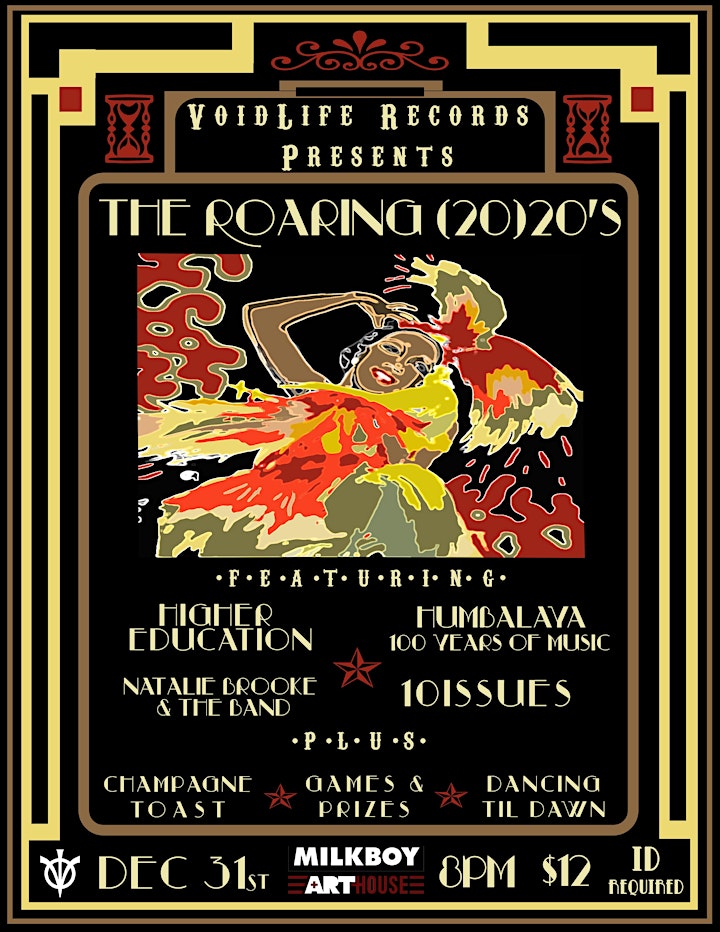 Venue Information:
MilkBoy ArtHouse Main Stage
7416 Baltimore Ave
College Park, MD, 20740